Zimbabwe's President Emmerson Mnangagwa three days after his inauguration has dissolved the cabinet of his predecessor Robert Mugabe, who resigned after the military took control of the country, a senior government official said Monday.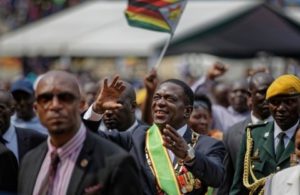 Mnangagwa "is in the process of putting together a new team of cabinet ministers," Misheck Sibanda, the chief secretary to the president and cabinet said in a statement.
Sibanda added that Mnangagwa has appointed Patrick Chinamasa as acting finance minister and Simbarashe Mumbengegwi as acting top diplomat "to allow uninterrupted services in critical ministries of government."
The statement did not indicate when Mnangagwa will announce his new cabinet.
Mnangagwa, 75, was sworn in on Friday following dramatic events in the southern African country after the military took over saying they wanted to arrest criminals in government around 93-year-old Mugabe