While appearing on the weekly NBS TV Frontline show, the Kyadondo East legislator Robert Kyagulanyi aka Bobi Wine who came dressed in an army like combat fired shots at veteran at journalist Andrew Mwenda saying his mind and arguments are only rotate around three individuals.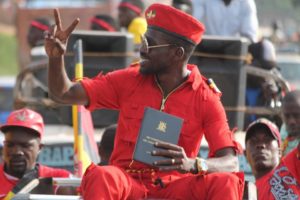 "I feel like Mwenda's mind has been locked up in a box that has Besigye, Museveni and Muntu. His mind is limited. This country is bigger than Besigye, Museveni and Muntu. I'm here as independent to support values. Uganda is bigger than what you know." Bobi hint at Mwenda
Bobi continued to say Mwenda does not know the reality of the current struggles as he said; "I want people to know that is not an issue between opposition and NRM. This is the issue between Ugandans and Museveni. I don't like to address Mwenda and Ofwono because they are complacent. They are disconnected from reality. They don't know what they are talking about."
According to Bobi, Mwenda's arrogance will make him the first to board a plane once Uganda starts war.