Wilson Kyambadde husband to Minister Amelia Kyambadde has served the sentence of six months in prison and he is now a free man. On July 10, 2017, High Court executions division committed Kyambadde to prison after he failed to pay a debt of sh1.1b.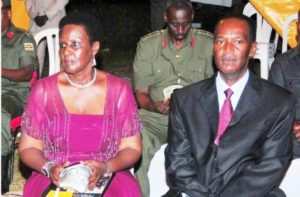 "His sentence expires today (Monday) at midnight and since we do not work at night, he will be released tomorrow (Tuesday) morning," Luzira Prison publicist Frank Baine stated.
In 2013, court-ordered Kyambadde to pay a sum of $300,000 (about sh1.08b) and sh32.29m as costs to businessman Amdan Khan.
Khan accused Minister Amelia's husband of selling him a house that never existed in 2012. Khan narrated to the court that Kyambadde approached him with a forged letter from the state house, claiming that President Yoweri Museveni had given him a house, and was selling it.
Khan offered to buy it and gave US$300,000 as payment.
He later realised that the house was non-existent and asked for a refund but Kyambadde kept on dodging him. After several failed demands, Khan petitioned the court to help him the money.