Boda boda 2010 patron Abdullah Kitattta has been arrested on allegations of the murder of case hospital accountant Francis Ekalungar together with 29 other suspects.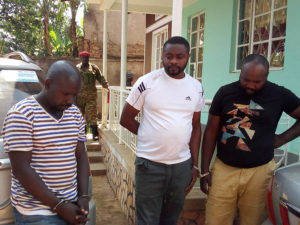 Ekalugar was kidnaped and later murdered on Tuesday 2nd Jan 2018 and his body discovered by police in Kajjansi, along Entebbe road, a day later burnt beyond recognition.
The group was found in possession of guns including AK-47, pistol, machetes among other weapons.
"Acting on very reliable information, on Friday, an operation was conducted to arrest one of the suspects Huzairu Kiwalabye ," Deputy UPDF spokesperson Lt.Col.Akiiki said in a statement released on Sunday afternoon.
He said that after interrogating Kiwalabye, investigations led them to the arrest of his brother Abdul Kitatta, the patron of Boda Boda 2010 a notorious gang of motorcycle riders known for terrorizing fellow riders.