It's Valentine's day and they say love is the air! However, for Tamale Mirundi, its business as usual. While appearing on his weekly NBS TV show, he was asked what gifts he would consider to surprise his wife with on the "lovers' day".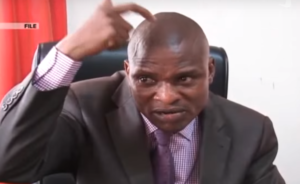 Frankly speaking, Tamale Mirundi stated that 'African men' don't express their love in public!
"We African men don't express ourselves in public; love is reserved for the bedroom," Tamale stated.
When tasked to explain his stand, he defended saying; "Whites kiss often each other in public but what's their rate of divorce? People just jump on wearing red things without even finding out the history behind."
Valentine's Day, also called Saint Valentine's Day or the Feast of Saint Valentine, is celebrated annually on February 14. It has it's origins dating as early as 3rd century.