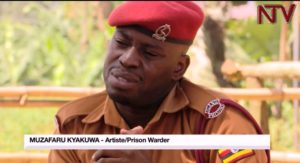 Singing Prisons officer Muzafaru Kyakuwa aka Rasta Gadee is bitter over Diamond – Zari breakup. The Prison Warder who has become a regular face in promoting music concerts says "our sister Zari deserved better".
"You have been our brother for a longtime. Our brother in-law and we loved you. Watch out! Fix this thing before it's too late", he stated.
Rasta Gadee singing and piano skills has seen him make appearances at several concerts, most recently for artistes like Eddy Kenzo and Pallaso.