Ugandan born British actor Daniel Kaluuya has won the BAFTA Rising star award for his stellar performance in horror film Get Out. Kaluuya beat Florence Pugh, Josh O'Connor, Timothée Chalamet and Tessa Thompson to claim the award which was voted for by the public.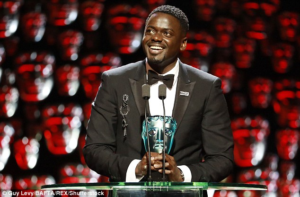 The emotional star praised the 'Rising Star Award' nominees in his speech as well as thanking his acting mentors and his family for letting him 'think different.'
"I've gone blank. Thank you, Tessa, Tim, Josh and Florence. I feel so privileged to be in your guys' company. I am a product of arts funding in the UK. I want to thank people who support that mainstream arts and grass roots levels. Thank you for letting me think different. I wasn't supposed to say that. We break all the rules," Kaluuya stated
Only this year, Daniel has also picked up Oscar, Golden Globe and Screen Actors Guild nominations for his role as Chris Washington in the 2017 horror film.