Socialite Bryan White has said the late Mowzey Radio mother's house will be completed next week, 'without fail!' The socialite exclusively informed us that the constructors are currently putting final touches on the house before he officially hands it over to Ms Jane Kasubo, the mother to the late Mowzey Radio.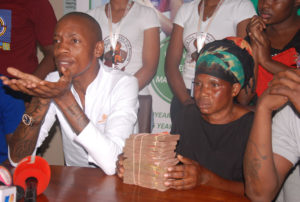 When he went to pay his respects to the fallen singer at the late's mother's home in Kagga, Nakawuka where he was buried,  Bryan was touched by the fact that Radio had not completed his mother's house by the time of his death, so he pledged to complete it in less than a month.
"I did this for Maama and for my friend; I am sure Mowzey is seeing all this and he knows I didn't forsake him even in death. Maama's house has been built very well and I put in very good stuff for her," Bryan told us.