As we stated here yesterday, it was only a matter of time before Weasel and Bryan White fell out! After a video showing the socialite calling out the artiste at a public function in a rather demeaning manner went viral, the beginning of the end ticked off!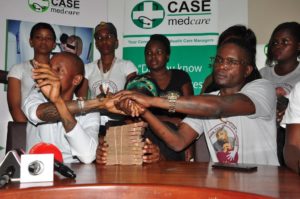 Through their Facebook page, Goodlyfe have terminated their working relationship with socialite Bryan White citing disrespect! Also, the label accused the socialite of trying to capitalise on the death of Weasel's singing partner, Radio for fame. Weasel has thus been granted a two-month retreat in USA to recuperate.
Below is their announcement on the matter
Our agenda as a brand is to RESPECT and PARTNER with fellow Artistes, Business people and Entities with an agenda of developing one another as we build our great nation, Uganda. Unfortunately, this has not been met with our current client Brian White Foundation.
Its a shame to our brand and our other business partners that believe in us when a client ( Bryan White ) doesn't accord us RESPECT to the brand in an equal measure even after running to us to use weasel on his brand just during our trying moment.
Its from this that we halt any business dealing or community social responsibility that we have been engaging in with its founder and the foundation as a whole with immediate effect.
Weasel will be currently going on a retreat to USA for two months to freshen up as he recovers from the loss of his dear brother and friend Mowzey RADIO that passed on early this month. #Tokyayitaba Loading..