With her concert just days away, Rema Namakula is doing all she can to ensure that her first show at the Kampala Serena Hotel turns out a success. Like we told you on these very pages last week, Rema started off by hitting the gym to shape up ahead of her concert.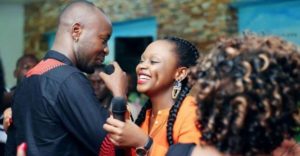 Well, according to a reliable source, Rema has also hired services of a choreographer. The source told us the move was triggered by overwhelming feedback received by Rema's management on her limited dance moves during most of her performances! The source told us that after getting the feedback, Rema reached out to her better half- Kenzo, and asked for his help in selecting the best choreographer for her.
Kenzo, who is known to be a great dancer, reached out to one of his friends, and leading choreographer, and asked him to train his sweetheart. The choreographer started work a few days back and has been rehearsing with Rema even privately during and after her rehearsals for the past two weeks. Rema is slated to hold her Banyabo concert on March 9. Entry to the concert will be 100k per head and Shs3m per table.