Following her appointment in mid-2016 as chairperson of Express FC, one of country's oldest clubs,  Florence Nakiwala Kiyingi ushered in a new wave of hope to fans and the historical club. However, there has been little or nothing to show as the once dominant club finds itself at rock bottom in the Azam Uganda Premier League with a paltry 14 points from 18 games!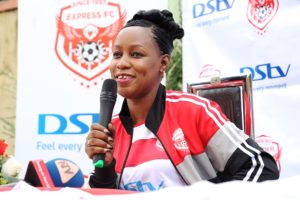 Besides the league, the Red Eagles failed to fly past Kitara FC, a lower division club Kitara FC in the Uganda Cup.
According to one of our sources close to the club administrative board, in Nakiwala's tenure, the Wankulukuku based club has had numerous administrative conflicts hence resulting into team failures in terms of performance. She was thus shown the exit.
Our sources also established that Hajji Hassan Bulwadda who has been on the club's executive committee as Vice Chairman Technical is likely to replace the minister.
Also, Jjunju Hamza, the Futsal Association Chairperson and Abbas Byarugaba are expected to be named in the new executive committee.