Over the weekend, singer Ronald Mayinja and member of Democratic Party ( DP)  was part of NRM's Kugikwatako thanksgiving party that was held in Kiboga. This didn't go down well with DP members where Mayinja is known to be a loyal and active member. The party publicly announced that they have disowned the singer.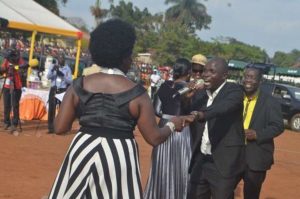 During a press interview, Mayinja defended himself that he was tricked into the deal that saw him perform at an NRM function " I left Kampala to perform at a function in Kiboga. We left as Golden Band. Even when I reached and found out it was an NRM party I tried pulling out but I was informed we have been hired to sing so there was no way I could turn away," he said.
He went on to add that, he couldn't sing the provocative songs he has recorded before like 'Tulikubukenke' because one who had hired the band had selected the songs.
" The organiser had selected the songs to sing that's why I sang 'Abalina sente' song. I couldn't sing my usual provocative song," he added.
To our shock, Mayinja officially announced his intentions to stand as Member of Parliament for Gombe East constituency but as an independent candidate
" In politics we only need numbers I am planning to stand as an MP for Gombe East but as an independent Candidate not as a DP member or NRM. As in waiting leader, I will need NRM, DP and other members. So attending an NRM function can help me easily gather votes when the time comes," Mayinja concluded.
Mayinja has been well known as NRM government critic. Through songs he has recorded in recent times, he has always come out as one that blames the government over corruption.