On January 2, Prophet Elvis Mobonye made startling predictions, rather prophecies about the winners of the Oscar Awards 2018. Almost a month later, the awards ceremony were held last evening, March 4….and guess what? Mbonye got it correct! If it were betting, he would be walking all the way to the bank! Damn!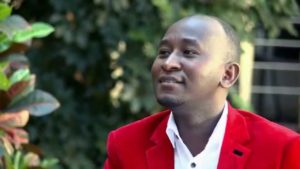 He got it right for Best Screenplay, Best Adapted Screenplay, Best Animated Feature, Best Design and Best Production Design, Best Actor, Best Sound Editor, Best Song categories. However, he skipped out other categories.
At the service, Mbonye explained to the congregation that he had no interest in Hollywood. He further stated that Hollywood is dominated by demonic entities and the spirit was simply showing him that Jesus is greater than all.
Here is the complete list of winners at the 90th annual Academy Awards: (Winners in capital and those with ** are Mbonye's prophecies fulfilled)
BEST PICTURE
THE SHAPE OF WATER**
Guillermo del Toro and J. Miles Dale, Producers
ACTRESS IN A LEADING ROLE
FRANCES MCDORMAND
Three Billboards outside Ebbing, Missouri
ACTOR IN A LEADING ROLE
GARY OLDMAN**
Darkest Hour
DIRECTING
THE SHAPE OF WATER**
Guillermo del Toro
MUSIC (ORIGINAL SONG)
REMEMBER ME**
from Coco; Music and Lyric by Kristen Anderson-Lopez and Robert Lopez
MUSIC (ORIGINAL SCORE)
THE SHAPE OF WATER**
Alexandre Desplat
CINEMATOGRAPHY
BLADE RUNNER 2049
Roger A. Deakins
WRITING (ORIGINAL SCREENPLAY)
GET OUT**
Written by Jordan Peele
WRITING (ADAPTED SCREENPLAY)
CALL ME BY YOUR NAME**
Screenplay by James Ivory
SHORT FILM (LIVE ACTION)
THE SILENT CHILD
Chris Overton and Rachel Shenton
DOCUMENTARY (SHORT SUBJECT)
HEAVEN IS A TRAFFIC JAM ON THE 405
Frank Stiefel
FILM EDITING
DUNKIRK**
Lee Smith
VISUAL EFFECTS
BLADE RUNNER 2049
John Nelson, Gerd Nefzer, Paul Lambert and Richard R. Hoover
ANIMATED FEATURE FILM
COCO
Lee Unkrich and Darla K. Anderson
SHORT FILM (ANIMATED)
DEAR BASKETBALL
Glen Keane and Kobe Bryant
ACTRESS IN A SUPPORTING ROLE
ALLISON JANNEY
I, Tonya
FOREIGN LANGUAGE FILM
A FANTASTIC WOMAN
Chile
PRODUCTION DESIGN
THE SHAPE OF WATER**
Production Design: Paul Denham Austerberry; Set Decoration: Shane Vieau and Jeff Melvin
SOUND MIXING
DUNKIRK**
Mark Weingarten, Gregg Landaker and Gary A. Rizzo
SOUND EDITING
DUNKIRK**
Richard King and Alex Gibson
DOCUMENTARY (FEATURE)
ICARUS
Bryan Fogel and Dan Cogan
COSTUME DESIGN
PHANTOM THREAD
Mark Bridges
MAKEUP AND HAIRSTYLING
DARKEST HOUR
Kazuhiro Tsuji, David Malinowski and Lucy Sibbick
ACTOR IN A SUPPORTING ROLE
SAM ROCKWELL
Three Billboards outside Ebbing, Missouri