A few years ago comedian Anne Kansiime tried her luck at music. She hit studio and came out with an entire album of kids' music.
Despite the songs not making it to radio stations and music shows on TV, Kansiime is believed to have sold thousands of the CDs to her fans who purchased them for their children. She then went ahead and released a song about her homeland Kabale.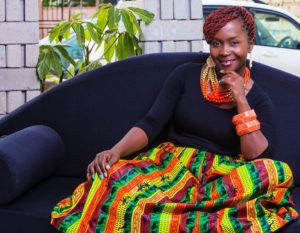 Towards the end of 2017, Kansiime outed another song, a reggae jam titled 'Jah Loves Me.'
The song is amazing; the production is tick, the lyrics are on point and Kansiime's voice is simply wowing! After listening to the song a couple of times last week, we wondered how she had managed to pull off such a beautiful piece of music.
Well, our curiosity led us to very interesting findings; we discovered that Kansiime has been having serious music tutoring from singer Irene Ntale.
The two, who are said to be quite close friends of late, have been secretly having singing sessions. We were also reliably informed that Kansiime intends to shock her fans with a full album of her own music mid this year! All the best Kansiime.