Ugandan doctors have gone on innumerable strikes over salary woes, while their counterparts in Canada are unhappy about getting higher pay.
It is almost unheard of that a worker would complain of a high salary from their employer. If anything the search for better payment is one of the main reasons people are always hunting for new jobs.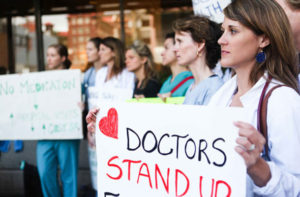 Over 700 doctors in Quebec, Canada have protested against their own pay rise. The doctors have asked the Government to spend the money on patient care and resources for their underpaid and overworked colleagues instead.
In an open letter to the public published on February, the medical practitioners noted that, "The only thing that seems to be immune to cuts is our salary." Part of the deal constitutes that Quebec's 10,000 medical specialists will see their annual salary rise from $4.7 billion to $5.4 billion in 2023, an increase of 1.4 per cent each year.
Data compiled by the Canadian Institute of Health Information shows that on average, specialists in the province earn $403,537 Canadian (Shs1.4b) annually. A physician is paid $339,000 (Shs1.2b) for clinical services by the government's Ministry of Health. A family physician earns $275,000 (Shs1b) for clinical services and a surgical specialist is paid $461,000 (Shs1.6b) per year on average.