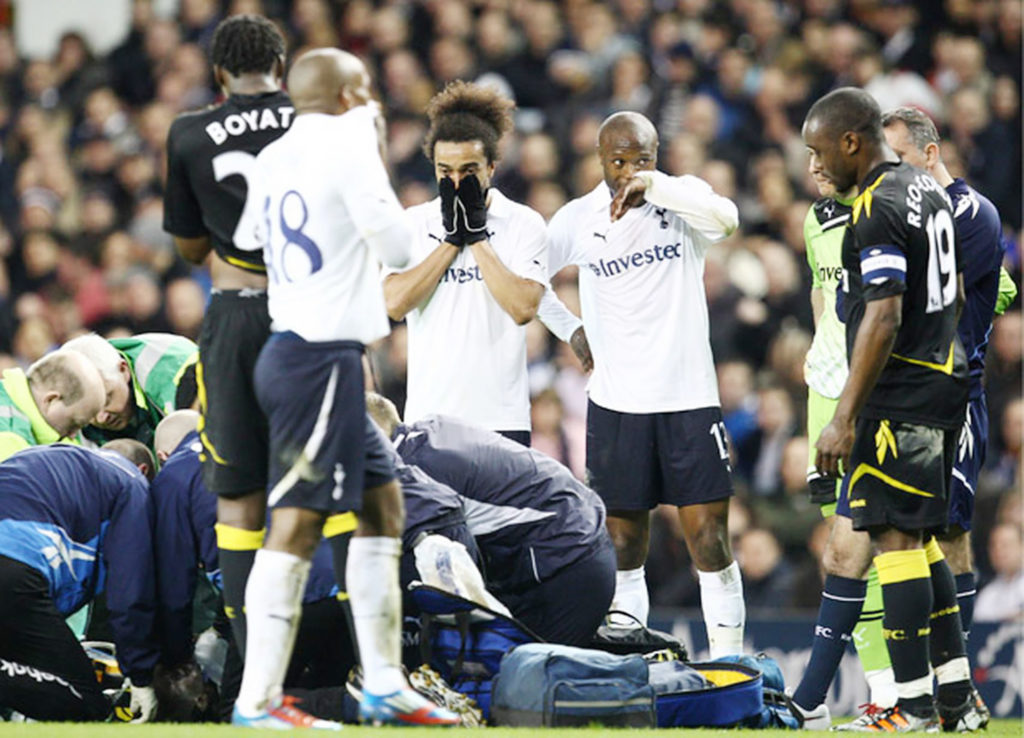 Fabrice Muamba dies 'briefly'
Fabrice Muamba perhaps stands out as the most memorable example of a footballer forced out of the game by a medical condition, but at least his story had a relatively happy ending. It was March 17 2012 during Bolton's FA Cup quarter-final tie against Tottenham Hotspur that Muamba suffered cardiac arrest and collapsed on the pitch. British media reported after the incident that Muamba in effect "died" for about 78 minutes after suffering 15 heart shocks. Unlike most who had been in his position before, he was lucky to rise from the day, and in an emotional speech 16 days later, Muamba announced he was retiring from professional football.
Madrid's Ruben de la Red
Ruben de la Red was a promising youngster coming through the ranks for Real Madrid but fate dealt him a cruel blow and halted his progress as a footballer after Ruben collapsed on the pitch in a Copa del Rey match against Real Union. Medical tests confirmed he had a rare heart condition and consequently the young midfielder was out of action for two years. Aged only 25, Ruben had to retire on doctors' orders.
Petrov's battles with leukaemia
Bulgraian Stiliyan Petrov's case started as a mere fever in March 2012 at the age of 32 years. After two days a simple blood test was done and he was diagnosed with acute leukaemia. Fifty one months after the diagnosis was made, the then Aston Villa star returned to training but it would be shortlived he was advised to retire from competitive football.
Mental illness unhinges Castro
When a Ugandan football fan hears about mental illness, Andrew Fimbo Mukasa is the name that comes to one's mind first. A similar condition, however, sparked Mario de Castro's early retirement. The striker was Atletico Mineiro best player at the time, and was still studying medicine when he made his Mineiro debut. Football soon overpowered the medical career and de Castro appeared destined for greatness on the pitch. Yet de Castro would be forced to retire aged 26, after Atletico Mineiro's director announced their player was battling mental illness.
While physical injuries are considered an inevitable element of any sport, in fact only last month the Hull City midfielder Ryan Mason, 26, was forced to retire following a serious head injury sustained in January 2017, there is a rarer but equally devastating reason some footballing dreams are cut short—that reason being complicated illness. Many a footballer have been forced to call time on their playing days because of conditions they sometimes knew nothing about, and here we highlight some of them: