Rwandan president Paul Kagame and Uganda counterpart Yoweri Kaguta Museveni are holding bilateral talks at State House, Entebbe. While addressing the press, president Museveni noted that there is no conflict between the two countries.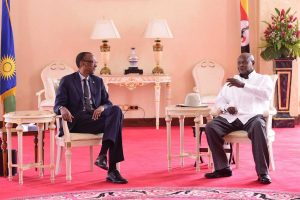 "There's no fundamental conflict between Rwanda and Uganda, we don't even have a border problem like that of Kenya. We discussed that issue (on Rwandan citizens being harassed) and the solution is close cooperation", he stated.
President Museveni stated that Uganda and Rwanda have mutual interests especially in bilateral trade.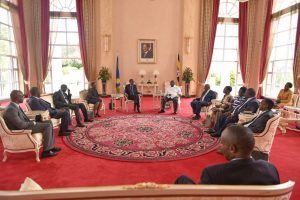 "The interests are clear, there are things Rwanda produces that we need here for example we have a huge iron ore mine in Kabale but in order to remove oxygen from iron ore you need gas. Rwanda has got gas and we have iron ore, why then should we import it from Singapore? The ministry of planning in Uganda should develop a project with Rwanda to see how we can work together on producing our own iron", he explained.
Foreign affairs officials of Rwanda and Uganda committed to arrange another meeting in three months and arrange for a state visit for President Museveni to Rwanda.