President Museveni grilled Umeme officials yesterday in State Hose meeting over exorbitant power tariffs. The South African based company was represented  Board Chairman, Mr. Patrick Bitature, Mr. Celestino Babungi the Company's Managing Director, Hon. Gerald Ssendaula and Ms. Florence Nsubuga, Chief Operation Officer.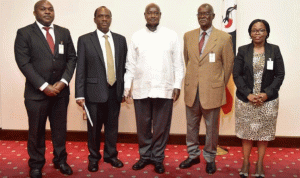 According to a source at State House revealed that President Museveni questioned the ever increasing power tariffs levied by the company. President Museveni insisted that power tariffs must be reduced following report of Umeme's inflated losses and high consumer tariffs.
The Umeme delegation pleaded with Museveni to rescind his decision regarding their contract, and promised to review rates.
The meeting comes after Museveni stopped the renewal of the power distributors (Umeme) deal and demanded for answers on why consumers are still paying high rates for electricity.
In a letter to the Energy Minister, Hon.  Irene Muloni, the President also directed that a cheaper option of modernizing, expanding, transmitting and distribution of power, be found.
He further asked the Inspector General of Government (IGG), Ms. Mulyagonja, to investigate Umeme's alleged inflated losses and high end user tariffs.