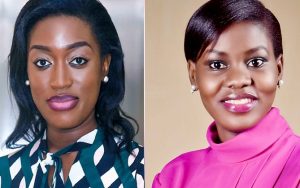 It was the popular NTV Mwasuze Mutya host, Faridah Nakazibwe tearing apart former workmate Justine Nameera. In the red corner, Faridah Nakazibwe launched missiles at Justine Nameere alleging that she was trying so hard to break her marriage! Igwe! In a hard hitting Facebook post, Nakazibwe claims for over one and a half years now, Nameere has been on her case by tarnishing her name. Nameere has created over 10 pseudo accounts which she has been using to malign her (Nakazibwe) in the face of her husband a one Omar Ssali by telling him how she is a prostitute who sleeps with all kinds of men for money and favours. She says the former NTV employee has done more harm than good through tapping her phones, hacking her Facebook and email accounts.
 Nakazibwe further reveals that Nameere reached an extent of offering her friends money in exchange for information about her (Nakazibwe), stalked her on TV, office and along the way home but still failed to prove her alleged infidelity.
However, Justine Nameera denied the allegations and left the dust all over the online streets!
But surely, when 'high society' women get involved in such fights, what will the lower class women do? Ok, they traded punches online, what if they were in a market?
Well, as they say , a man is a man!
Easter season has served with more drama than anticipated! In one event, one 'worshipper' attacked a bishop in church! While we were still coming to terms with the craziness in this country, two 'high-class' got involved in a vivacious fight online!