Grace Wamala is a resident of Kasawo in Mukono whose decision to switch from growing tomatoes to upland rice has been most rewarding, writes Paul Jjemba.
Grace Wamala is now one of the happiest farmers in his locality despite the fact that his start was bumpy, the 29-year-old told Matooke Republic during a one on one interview.
"All through my Bachelor's in Business Administration course at Kyambogo University, I desired to do a venture where I could still be the main source of supply of the products I sell (selling what I can produce). This is how farming became my number one choice when it was time to start a business," Wamala told us.
At this point in time—around 2013, Wamala hardly had any basics that would be required of one getting into commercial farming, but the advantage of free family land in Kayunga meant he would exercise his dream by trying to grow this crop or the other before finding out what is exactly was suitable for him at the cheapest cost.
"I began with growing cabbages and tomatoes in my first and second seasons respectively, but the major challenge here was that I would get very low returns yet I was investing a lot of energy. This came as a result of many growers in the field, meaning the supply was higher than the demand and since I was dealing with perishables, I couldn't keep them in the interest of waiting for better seasons ahead," he said.
With his hopes fading, Wamala said he even thought of quitting farming, but opportunity came sooner than later when a family friend advised him to grow upland rice since it had a ready market both in the village and in town.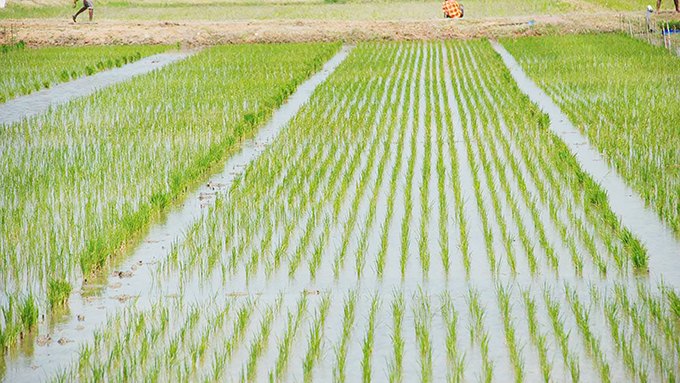 "With the few basic lessons I was given about rice in particular, I realised the process was easy, but because I didn't have any experience about the crop, I decided to begin with only one acre field," he recalled.
"I went to a farming shop in town and bought two kilograms of upland rice seeds which I first planted in a nursery bed and in a period of three weeks, the seedlings were ready to be transplanted to the main garden. I did the transplanting myself. The next thing was to hire a labourer after a few months whom I paid Shs70,000 to scare away birds during the flowering stage," Wamala explained.
His first harvest season was due in three weeks' time after flowering. This was in 2016. "The returns I got here yet in my first harvest season motivated me. I harvested 10 sacks of rice from which after a three-week drying period I was left with seven sacks. I took them to the nearby hulling machine for hulling.
"I realised profits of about Shs1.1m after selling each kilogram at Shs3000."
The advantage with upland rice as opposed to the rest of the other crops, according to Wamala, is that it has a ready market right from the hulling machines. It is both a cereal and a food crop and unlike the lowland rice, it can thrive on dry soils.
Ever since he invested efforts in growing this type of rice, Wamala admits he made the best decision ever, and is no longer worried about what to feed his home. In fact, he even opened a wholesale shop in Mukono selling foods two years into this venture.
Even though he encounters challenges of birds eating up the flowers during the flowering stage and the cost of hiring labourers to scare them away being very high, Wamala said he is has big expectations from his rice field which measures three acres and from which he expects to earn about Shs7m.