We are beautifully gifted by culture, aren't we? South Africa's First Son, Randile Ramaphosa was here over the weekend to make official his relationship with Amama Mbabazi's niece, Bridget Birungi.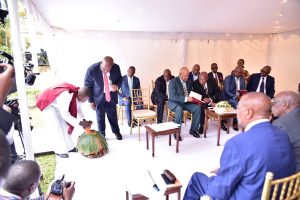 The uniting strength of love had the VVIP delegation flying from South Africa to Uganda for the Okushaba ceremony which will be crowned by the Okuhingira ceremony in August.
The ceremony was held true to the traditions of the Bakiga. Here is a glimpse of the taditional dance at the ceremony.
Nice one JPAM. Asante Sana @AmamaMbabazi pic.twitter.com/7F86r48TMN

— Alice Ruhindi (@AliceRuhindi) May 21, 2018