Incase you did not know, a whole album of Judith Heard's nud3s is making rounds on social media. The photos taken in an intimate moment shows the model in Adam's, sorry in Eve's suit in various positions as her man beams with joy in some of the photos.
Despite the scandal, Judith Heard has come out strong. She waxed lyrical spreading positive vibes about her condition.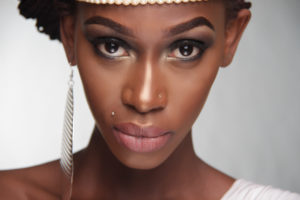 "Don't let your past define you. You have to let go of the guilt and move into the present, into the now. You must realize that you are standing in the middle of a spider's web and each strand of that web represents a possible future that you can have. You must decide how you want your future to be and then chase that future. You can't change the past nor can you fix it so you need to leave it in the past. That means you need to leave all the things that happened to you growing up in the past too. Those things happened and made you who you are right now, but that is not who you will be in the future. You can choose to be happy and have a great life but it means forgiving yourself and leaving yesterday in the past as a finished chapter in the book of you", her Facebook post read.