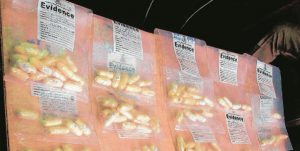 Aviation police o Friday, June 22, 2018, arrested a 24-year-old Venezuelan national, Rodriguez Fagundez Doralys, for alleged possession of narcotic drugs at Entebbe International Airport.
According to Kampala Police Spokesperson Luke Owoyesigire, the police received intelligence that on June 17, a passenger travelled from Sao Paulo in Brazil aboard Ethiopian Airlines flight number ET 507 to Addis Ababa heading to Nairobi but later changed course and headed to EBB and was suspected to be carrying narcotic drugs.
Upon arrival, Rodriguez was identified and arrested by the Aviation Police and the Customs Officials attached to Uganda Revenue Authority (URA). Her bag was searched but no drugs were found.
"She was subjected to a scan which revealed the drugs in her stomach. She was then put under observation and passed out the 114 pellets equivalent to 1.6kgs of cocaine," Owoyesigire said.
Upon questioning, Rodriguez told police that she left Venezuela and went to Sao Paulo in Brazil and started working in Gavion supermarket. On June 15, 2018, she was approached by a man only known to her as Antonio who promised to get her a better job.
He took her in a house located in Villa Yolanda, Sao Paulo and forced her to swallow the pellets of drugs. She was escorted to the airport where she boarded a plane to Addis Ababa.
Her mission was to go to Alcom Hotel, Kibuli where unidentified person was to receive her and pay her USD 2000 (UGX 7,760,000)
She has been charged with unlawful possession of narcotic drugs and trafficking of narcotic drugs and is currently being detained at Entebbe Police Station pending arraignment before court.