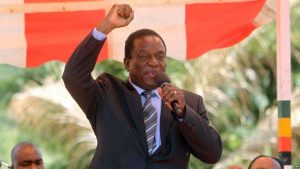 Zimbabwe President Emmerson Mnangagwa, who took over the country after an ouster of the country's longterm leader Robert Mugabe, has survived an assassination following an explosion that hit at the rally he was attending at White City Stadium in the city of Bulawayo.
The incident happened when Mr Mnangagwa together with various government officials were leaving the stage after addressing supporters.  And according to the president's spokesperson, Mnangagwa has not been hurt but several people that include officials and bodyguards have sustained serious injuries.
It is not yet clear who or why the explosion was sent off but reports from Harare, Zimbabwe's capital describe it as an assassination attempt at the president who is currently campaigning to be officially voted into office as President.