Swangz Avenue boss and producer Benon Mugumbya is a very happy man of late. For the past few times we have encountered Benon at events, he was always wearing a smile. We were beginning to wonder what's behind the celebrated producer's smile when a source let out the secret earlier this week.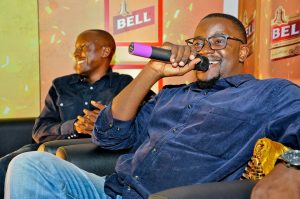 According to the source, Benon is a happy man after ticking a key box on his list of dreams. A few weeks back, Benon moved into his own house. Apparently Benon had been constructing his new home for the past two years.
However, a few weeks back, Benon is said to have entered his new home located along Salama road in Makindye. We were not readily furnished with images of Benon's new house, but our source told us it's mega and promised to share images very soon.
For now, join us to congratulate Benon upon ticking 'owning a home' off his priority boxes! Congrats Benon.