After seven months of a season filled with upsets the big one is here- the final of the Singleton Challenge where a pair of male and female golfers go head to head for the ultimate prize, writes William Kasoba.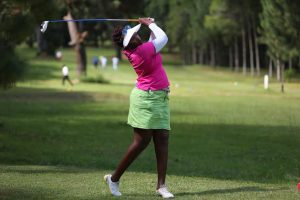 Saturday is the day and Entebbe Club is the place. The all-conquering female pair of Sheila Kesime and Peace Kabasweka will be aiming to make history. In one of the most prestigious golf competitions in the land, the pair has claimed scalp after scalp as they overcame every hurdle placed before them since the tournament teed off in January.
Now, they have the opportunity to make the biggest statement of all, a final scalp in the form of the pair of Joseph Bagabo and Paul Kaheru. It will be a herculean task, but the prize in store provides excellent motivation if any were needed; an all-expenses paid trip to the World Golf Tour Championships at the luxurious Jumeriah Golf Estates in Dubai, from November 15-18, 2018 awaits the winning pair.
Kesime and Kabasweka go into Saturday's final matchup with the favourites' tag, but they know too well Bagabo and Kaheru will not be at the course to make up the numbers. It promises to be scintillating.
The professionals' category will see Herman Mutawe and Silver Opio battle for the gong, with the added spice coming from the fact that the hole in one prize, a Mitsubishi Pajero Sport (insured by AfriSafe Risk) remains unclaimed since the opening weekend in January this year, and this weekend presents golfers a final opportunity to do what nobody has so far. Season II of the Singleton Challenge just got hotter. You just cannot take your eye off this one.