Will the love-hate relationship between Bebe Cool and A Pass ever end?. Over the weekend during the launch of the Royal Ascot Goat Races at Speke Apartments, Bebe Cool registered his goat amongst the many that will contest in the race.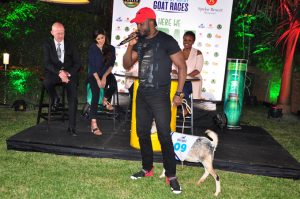 Further in the speech, he threw jabs at A Pass by naming his goat after the singer. Bebe Cool reportedly told the gathering that, A Pass the goat and A Pass, the singer shared a haircut and also the goat bleats 'Didadada'.
A Pass has made a response to the joke.
"Someone called me a goat but don't be blind, he meant am The Greatest Of All Time. He has never seen a talented artist like me",  A Pass posted.
This recent argument between the singers arose due to dissimilarity in opinion about the newly introduced Social media and Mobile Money taxes.