Donning dark shades and a sleek kanzu, Kyadondo East MP Robert Kyagulanyi aka Bobi Wine, the Omubanda Wa Kabaka made entry to a warm reception at Jubileewo celebrations yesterday as Buganda celebrated Kabaka's 25th coronation anniversary.
As the new political kingmaker in town following Asuman Basalirwa's win in Bugiri, Bobi Wine is bound to attract political statements! He is now a legislator and a driving force in opposition politics afterall.
It is therefore not surprising that his photo reading Nelson Mandela's famous liberation struggle story, 'Long Walk To Freedom' has attracted such a response. Captured by his photographer Tabz Ku Camera, Bobi Wine was seen reading at the function while donning shades.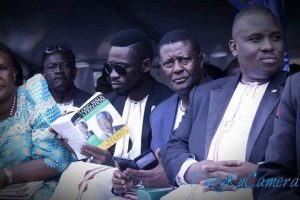 Press secretary to President Museveni, Don Wanyama claimed that legislator was looking for attention describing the photo as a PR fail.
"When you try too hard! This is to say what was happening at Jubileewo yesterday was not worth Bobi Wine's attention… Forget the fact that he's looking for attention anyway. PR gone bad", he tweeted.
One Kasubo whose Twitter reads 'I love my party NRM and my president. Long live Paapa Africa YK Museveni' chipped in saying;
"The problem Bobi Wine has is over excitement which is actually a very bad disease. It makes him think that becoming a president is something easy. Now he came with that book having Mandela on the cover and he told his boys to take a photo just to show off. I just enjoy the movie".
Events manager and foodie Dennis Asiimwe had no kind words for the honourable and his fans.
"Epic PR fail.'Read' (or is it 'lead') us into the light, eh?It seems absurdity is catching when you decide to become a politician……and yes, I am waiting for a fresh bunch of "You leave our man alone!" louts to hit my wall with their indignant nonsense. I will have you for lunch, gibbering cunts", he stated.
What do you make of the moment?