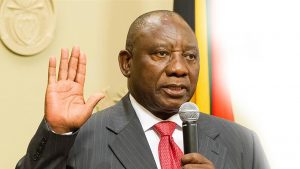 South Africa's President Cyril Ramaphosa will be in the country this weekend to attend his son's introduction ceremony (Kuhingira).
Thirty-six-year-old Andile Ramaphosa, the son to South Africa's president will pick his yet to be wife, 37-year-old Bridget Rwakairu, a niece to former Prime Minister Amama Mbabazi on August 2.
The star-studded event will at Mbabazi's home in Kololo. Andile was in Uganda, in May to agree on terms with Amama Mbabazi about the dowry for marrying his wife's niece and also deliver marriage proposal to her.
Bridget is a daughter to the late Shadrack Rwakairu of Kabale and Peace Ruhindi, a sister to Jacqueline, Mbabazi's wife.