The Ugandan music industry in terms of management has its key players who have built a reputation in developing and managing talent.
Rydim Empire, a music label under the directorship of Derrick Orone has sought out the services of  talent manager Emma Carlos on contract basis of five years to discover, recruit, groom, manage, develop and maintain talent starting with Rydim Boyz and won't be limited to them.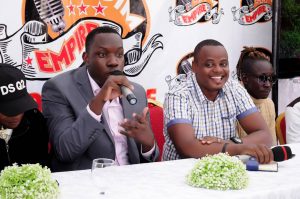 After the death of Gudlyfe other half Mowzey Radio, the talent manger unveiled a one upcoming singer 'Zil Zil". However, the former Coco Finger and Khalifah Aganaga manager seems to finally back to the big boys' league!
According to our sources, the partnership is hopeful to create a formidable force in the entertainment industry by pulling together their sources. For starters,  Emma Carlos has been representing and managing artistes and has built a reputation as one of the top music managers for over a decade.  On the other hand Rydim Empire boasts of  financial muscle to go all the way.
We are yet to witness what this combination will pull off.