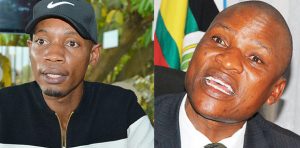 Though most of the public always jokes about his books, former presidential adviser, political critic and motor mouth analyst, Tamale Mirundi, is still going strong with his authoring career. Guess what, this time he is set to release a book about city socialite Bryan White.
According to Mirundi, the book is titled 'Bryan White And A Story Of A Malicious Footballer' and it will highlight why 'mafias' have continued to fight him. He also reveals other self styled tycoons who are being fought including SK Mbuga.
However, Mirundi is yet to confirm where the books will be sold, but our sources indicate that his books are always sold by a female street vendor, outside Diamond Trust building along Kampala Road. Mirundi says those who can't find the books can contact him directly. He argues that he can't have his books in popular bookshops, because 'mafias' buy them off immediately, which hinders their circulation.