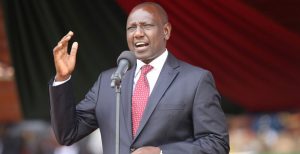 Kenya's Deputy President, H.E William Ruto will deliver the keynote speech at the Young Achievers Awards gala at Serena Hotel on Saturday.
Ruto will also be awarded the 2018 Life Time Achievement Award according to the event's organisers, Reach A Hand Uganda (RAHU).
"H.E Ruto represents a generation of new youthful leaders across the continent who have a passion for young people's well being. His rise to the office of Kenya's Deputy President is a story worth sharing to inspire young people not only in Uganda but Africa," Humphrey Nabimanya, The Team Leader & Founder of Reach A Hand Uganda said.
The 2018 Young Achievers Awards are organised by Reach A Hand Uganda and this year's edition is under the theme, 'Rewarding Innovation And Excellence Recognizing of Young Entrepreneurs and Inspiring the Next Generation of World Leaders'.
The Awards celebrate and recognise outstanding Ugandan youth achievements in numerous fields such as arts, entrepreneurship, media and journalism, philanthropy, innovation, sports, among others.