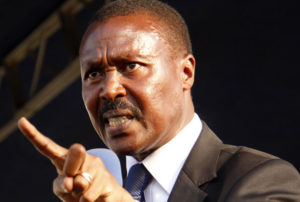 Family, opposition leaders and fans of detained 'People Power' Hon Robert Kyagulanyi have this morning gathered at Gulu Court Martial, ready to witness Bobi Wine's appearance before the court. Yesterday at Parliament, Second Deputy Prime Minister Gen Moses Ali confirmed that Bobi Wine will appear before the court to face charges of treason and possession of firearms. But the former Army Commander and one of the respectable opposition figures, Gen Mugisha Muntu has rubbished reports that guns and bullets were found in Bobi Wine's hotel room in Arua. According to Gen. Muntu, the security forces unprofessionally handled the incidents. He wondered how could the police have illegally searched the rooms when they have the power to cordon off or get a search warrant for the place?
"You break into a hotel, arrest someone, then return again and search again and then magically, you find guns? Who then will believe the evidence?"
He further stated that; "We yet have to find out if what is being said is true or not, and once we establish that, we shall engage with our lawyers to go on with the process." Muntu said they are yet to see Bobi Wine but the officials at the court say they have him in their dentition facility.