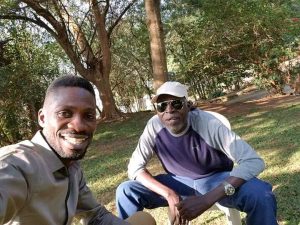 The past three weeks have been dominated by series of chaotic scenes that gained momentum following the arrest of legislators Robert Kyagulanyi, Francis Zaake among others.
Retired Major General Kasirye Gwanga has added his voice in condemning the acts violence by armed forces.
"Torturing civilians is bad. You saw how the world went hullabaloo about the whole thing because of armed men who were clobbering people; you could even hear the sound. You are not supposed to beat people like that."
Kasirye stated before adding that; "They don't train military men to torture, they only train them to kick an enemy, in this case, he is kicking a fellow Ugandan, he doesn't differentiate."
On the rapid elevation of Bobi Wine on the political scene, the retired officer was submissive as he said he is a good and smart man who can go a long way in the game but has to be very critical with the people he relates with.
"He is a good man and very smart. They are messing with Kyagulanyi, he is like Kasirye Gwanga, he sizes you up and he takes his time. If he is left alone without mixing with these failed politicians, he will go far in politics."
However, the general further vowed that he is not of any threat to the president because the Museveni has come a long way.