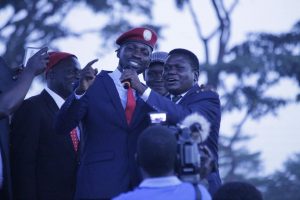 Yesterday, the Democratic Party president, Norbert Mao called a press conference in which he called out Gagamel boss, Bebe Cool to apologise to his nemesis Bobi Wine over him making claims that he (Bobi Wine) was feigning sickness. Norbert Mao said that Bebe Cool should be ashamed he made such a statement because he clearly saw what happened to the victims of the Arua arrests. He went forth and asked Bebe Cool to come out and apologize for making the statement.
"Bebe Cool should realise that he and Bobi Wine are no longer at the same level. Bobi is chasing a different mission,"
Mao added. Mao was, however, quick to condemn acts by revellers at the Swangz All-star concert at which they pelted Bebe Cool with bottles. He said that opposition cannot condemn state violence if they are perpetrators of violence themselves. In response to the Buganda premier, Charles Peter Mayiga's call for opposition to hold talks with the government, Mao said the opposition is willing to hold talks with Museveni but it is not possible because the grounds of discussion are not levelled as government would dictate its own terms.