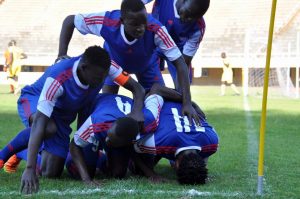 When it comes to local football, SC Villa is one of those teams that bear a lot of pride and history especially in the 90s and the 2000s. But the recent years have not been good for them, and the views and actions of their fans speak volumes about the situation. Yesterday's barren draw between the traditional giants Sports Club Villa and Uganda Revenue Authority Football Club at Namboole stadium summarised the entire recent atmosphere in the Joggo camp. Thirty minutes to the game's kickoff, just about 30 individuals who included fans, journalists and security officers, had reported for the game. However, at kickoff around 200 fans had taken their seats to watch the tie. Only a few minutes into the game, the hooliganism for which Villa fans have come to be known reared its ugly head, as they started to throw all kinds of verbal insults at their players and coach Moses Basena. Nevertheless, a few of the fans were truly applauding and cheering their team on. At the final whistle,
Matooke Republic
reached out to various fans to know why the once 'treasured' local team seems to be losing track as they now sit third from bottom of the UPL log.
Poor run of games
In the five StarTimes UPL games played so far, the Jogoos have only managed to collect three points and according to the fans they cannot just look on when their team is turning into the Express of last season. "SC Villa is a very big team that must at worst be fighting for top three finishes. You remember what happened to Express last season? We are not ready to see our team struggle that way," one fan stated.
Style of play
Despite former Uganda Cranes coach Moses Basena joining Villa this season, some of the fans appear unimpressed by his playing tactics. "We cannot win any game while playing Basena's defensive style," a fan said. And it was no surprise that some of the fans were heard shouting in Basena'spost-match press; announce your resignation now!"
Nature of players
Even with experienced players like Savio Kabugo, Habib Kavuma, Mike Sserumaga and Manco Kaweesa among others, several Villa fans think the squad is not beefed up enough to compete in the fast growing local league. "Our competitors like KCCA, Vipers, Onduparaka used the transfer window wisely and they are performing. In that window, we just lost lots of our good players and we never replaced them. "The Masaza Cup concluded yet again with the best teams scouting all the best players and they will be joining them in January," another fan cried out. Besides the established players on the team, Villa has no breed of young talents coming through, apart from left back Derrick Ndahiro who seems destined for big things despite his lack of physique and pace.
Lack of venue attachment
After the demolition of Nakivubo three years back, Villa is yet to find a permanent home and fans seem to be envying what they call 'small' clubs that have establishedhome venues. One passionate fan was heard saying, "After all these years in local football, it's very shameful that my team is hosting games here at Namboole. Small teams like Onduparaka, Vipers, Bright Stars have known venues but for us, we change almost every season."