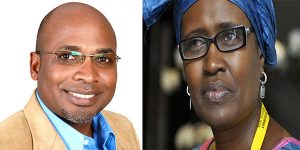 Controversial Pastor Martin Ssempa has responded to Oxfam Director, Winnie Byanyima's attack on President Museveni in which she ranted that women's job isn't restricted to cooking for the husband.
Ssempa assured Byanyima that it was her choice to let house girls cook for her husband, opposition supremo Col. Dr Kiiza Besigye and should let the president enjoy his wife's food.
Hello @Winnie_Byanyima stop attacking @KagutaMuseveni for enjoying his wife @JanetMuseveni cooking food for her family. If you choose to depend on house girls to cook for the @kizzabesigye1 family that is your choice. Don't attack women who cook for their families. pic.twitter.com/zUxFDwX8Gi

— Martin Ssempa (@martinssempa) November 7, 2018
It is not clear whether Ssempa's response is connected to Byanyima's history with Museveni but the two who sit on different ends of the human rights table have yet to find a point of agreement.
Byanyima's comments in response to the president's remarks have been highly criticised by most men in Uganda including Sanyu FM's James Onen alias Fatboy who even claims that Byanyima blocked her on Twitter after he directly confronted her.
Winnie has blocked me 😂😂😂 pic.twitter.com/oyDwP2HZok

— James Onen (@jamesonen) November 7, 2018