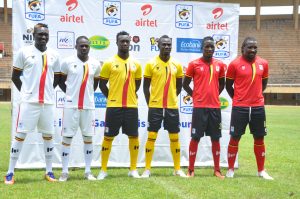 After Fufa announced the 'retirement' of the historical Uganda Cranes jersey that marked the country's return to the 2017 AFCON finals in Gabon, a new outfit made by an international kit company, Mafron was unveiled on October 10 this year.
The boys gave the kit its first match day feel when Cranes played against Lesotho at Namboole Stadium. On that day almost no fan had donned the new kit and it was understandable because it had just been released like two days back.
However, last Saturday when Uganda Cranes played in a qualification decider against Cape Verde, the anticipation of seeing many fans wearing the new kit did not come to pass. On average, one out of 10 fans was donning the new kit.
Recalling FUFA President Moses Magogo's words during the unveiling that the new kit would only be available to the public at its authorised outlets, indicators show the local football governing body is yet to officially announce outlets.
When Matooke Republic reached out to different parties to understand why they are yet to embrace the kit, it emerged the reasons range from pricing to accessibility to the appearance of the new jersey.
Prices 'made for corporates'
With cheapest authentic new Cranes Mafron jersey going for Shs50,000, fans who this paper talked to suggested they had been put off by the pricing.
Jonathan Sseguya who claimed to have not missed a Cranes home game since 2006, said that he can only afford a jersey that retails for Shs20,000 to Shs30,000. "The prices of these new kits are not favouring 'omuntu wa wansi' (low-income earners). Maybe they were made for only corporates," Sseguya said.
Accessibility an issue
Sadat Waiswa, is a fan who travelled all the way from Mubende to Namboole to witness the boys make history. According to Waiswa, he sees many hawkers in his locality selling new kits but they look fake though he would love to at least buy one for keeps.
"I cannot travel from Mubende to Kampala just to buy a jersey; Fufa must open an outlet in our town."
No demand for new kit
For Hassan Ssekitoleko, a kit vendor at Bweyogere, from the dozens of customers he attends to a day, only a few have ever asked for the new kit.
"I cannot stock something that has little demand because it doesn't make any business sense, "Ssekitoleko stated. He also revealed his clients seem to still prefer the older national team kits.
Unappealing design?
Immediately after it was unveiled in October, the new kit got mixed reactions from the public, with fans on social media platforms such as Facebook indicating they were underwhelmed by the new design.
It now appears the kit is getting similar feedback offline. One fan, Linda Kobusigye told this paper she felt the training kit was more likeable than the actual match day jersey.