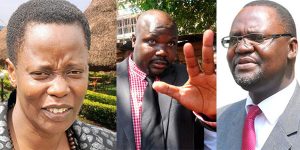 As the debate continues on whether or not Kawempe South MP, Mubarak Munyagwa will measure up to the shoes of party mate, Abdu Katuntu as the Chairman of the Parliamentary Committee of Statutory Authorities and State Enterprises (COSASE), Mukono Municipality, MP, Betty Nambooze has said there is nothing special about being a committee chair in Parliament.
Nambooze told Matooke Republic that Parliament is a house of equals and every member has met the requirements and therefore qualifies to be a committee chair.
"Our legislative role is about being given an opportunity, Parliament is a house of equals. Even if one holds a PhD, the qualifications required of MPs is the same. The biggest qualification for an MP is to be a true representative of the people, the rest are ornamental," she said.
The indefatigable Legislator further noted that there is nothing special about chairing COSASE as most of the donkey work is done by the Clerks office and all the chairman does is pick hands and ask random questions.
"What is special about being a chair of COSASE? Calling for hands and picking those to speak or reading a report written by the Parliamentary technical staff? Whatever is done in the Parliamentary Committees is combining the inquisitive capabilities of over 25 MPs which is finally polished in a report by the Clerk's team," she added.
Nambooze who is still battling court cases of Computer Misuse in the wake of Col. Ibrahim Abiriga's death added that a Committee Chairperson's role is only to be a flagbearer of work done jointly by both MPs and Parliamentary Staff and backed newcomers Munyagwa and Moses Kasibante to outperform incumbents Katuntu and Among Anita.
"I bet that the MPs who are considered underdogs will surprise many and the great men and women we are praising will go into oblivion if pride apparently overpowers their sense of judgement," she noted.