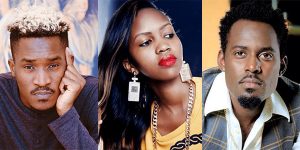 It was an equal measure of comedy and tragedy as Micheal Ross was tossed off the stage. The bouncers at the Ginuwine concert did not care to know that Ross was once a popular musician. As thus, fellow musicians, entertainers have come out to speak on the incident.
According to Maurice Kirya, it is during days like these that someone needs their true friends. The #hasgtag #IstandWithMichealRoss has been trending on Twitter since Saturday night when the incident happened.
As expected, a few other celebrities have gone ahead to make a mockery of what happened and to take jibes at the Yoyo singer for "embarrassing himself."
Kirya who was one of the few Ugandan artistes who got shared a stage with Ginuwine showed empathy for his longtime friend in the most touching way possible.
"I totally understand what it meant to Myko to jump on that stage even though I performed on that stage. Myko deserved that stage better than anyone else.."
Comedian, Richard Kofi Tuwangye of Fun Factory argued that Ross being dance-maniac, it is unfair that he is taking a lot of shade for not resisting the urge to express himself.
"Mwe Micheal Ross is a Dance-maniac. That spirit comes over you and you just can't help it. And when your icon is performing just meters away it gets more electric. He must have felt a 3 phase dance electric force bursting out of his every vein and muscle on his body. It's inexplicable. You seize to be in control. The Baganda have a word for it "ekinyegenyege". It shot through his mental roof. It gets the hysterical sometimes for people with an abnormally high enthusiasm for dance. It was not right but I entirely understand. #LetMichealDance.
For other celebrities, it was a chance to laugh at a colleague and the award goes to…you guessed right – A Pass.
The "all-around artist" left many guessing on which he is on as his post showed both supportive and sarcastic emotions.
"Why didn't you leave him to at least do a backslide….the other time it was Bebe now its Micheal however sad it must be, I am enjoying. Ugandans won't let anyone shine they always find a way to pull you down. Bouncers, there's always a better way to do things. That is @MichealKakooza not a sack of potatoes. Please respect artistes," A Pass noted.
Actress, former dancer with the defunct female band – The Obsessions and currently Radiocity presenter, Cleopatra Koheirwe expressed her disappointment with how Michael Ross was handled in a tweet.
I was disappointed too in how it was handled. Seeing our very own stars get embarrassed on stage in our own country is just sad. #MichaelRoss deserved better. But anyway, what's done is done. Keep your head up bro. #GinuwineConcert https://t.co/ciXvVBX7Kh

— Cleopatra Koheirwe 🇺🇬🌻🇰🇪 (@CleopatraCK) December 2, 2018
Her views were shared with TV personality and Africell Brand Ambassador, Sheila Gashumba who was saddened by the fact that the bouncers were actually Ugandan. "It's a shame, she said.
This video of @mrosskakooza is sad and to make it worse!! The bouncers are Ugandans 🤦‍♀️It's a shame!!

— Sheilah C Gashumba (@SheilahGashumba) December 2, 2018
The controversy was crowned Pastor Martin Sempa who joined the mockery bandwagon saying that; "The comedy and tragedy of Micheal Ross, an unwanted breaker dancer photo bombing Ginuwine concert. The moon walk ended in a solo fight. Banage mundeke nzinemu tonsubya endongo ssemaddongo effuse kazalabulwa."
Although Micheal Ross is yet to make a public statement on the matter, it begs the question on how should bouncers treat people at public events without causing scandal and embarrassment.