Recently given the ridiculous title of 'Minister of Condolences' by Ugandans, singer Catherine Kusasira has denied rumors that she called Gen. Kasirye Ggwanga 'Honey'.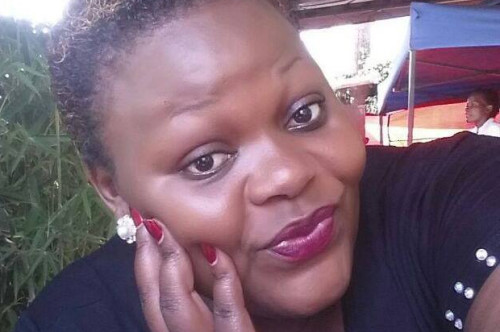 Speaking in an interview with Matooke Republic, the singer didn't mince any words, saying that Maj. Gen. Kasirye Ggwanga is a grandfather-ike figure to her and therefore she cannot call him 'My honey'.
Kusasira went ahead to say that in her opinion, when Maj. Gen. Ggwanga made allegations that Kusasira previously 'tied onto him' and publicly called him 'Honey' on several occasions, the general only wanted to distract people from his blunder of shooting at her car.
"He just wanted to distract people away from the hot soup he is in," Kusasira told Matooke Republic.
However yet, without adding details of how it came to happen and on what grounds it happened, Kusasira revealed that a long time back when she was still in Eagles Productions, she once called Mau. Gen. Kasirye Ggwanga to help out when some police guys had arrested their machines.
Regarding the details of the incident in which Ggwanga shot at her car, the singer gave an account to the effect that her aides weren't in the wrong, rather Maj. Gen. Ggwanga acted impulsively in defence of his disrespectful children.
"My boys were not playing loud music, no. They were in a working car which even has no music when some strangers driving badly on the road came and parked next to them, and started abusing them. When my aides tried to fight for their rights, because it is well stated that no one is above, the strangers called their father and guess who it was? Maj. Gen. Ggwanga, the man everyone fears," Kusasira told Matooke Republic.
"So my aides were scared and decided to give me a call, knowing that may be when I come I will settle everything because they thought Maj. Gen. knows me. When they mentioned the name Kasirye Ggwagga I just dropped everything and went to see what was happening.
"Reaching the scene of the incident I saw Gen. Kasirye and I went straight to him and started talking to him, since the children had already explained to me everything on phone. I explained it all to Gen. Ggwanga and he paid attention to me, seeming to understand everything properly. But then he asked one of his boys to bring him a gun and he shot out the tyres of my car, saying that he was disciplining my kids."