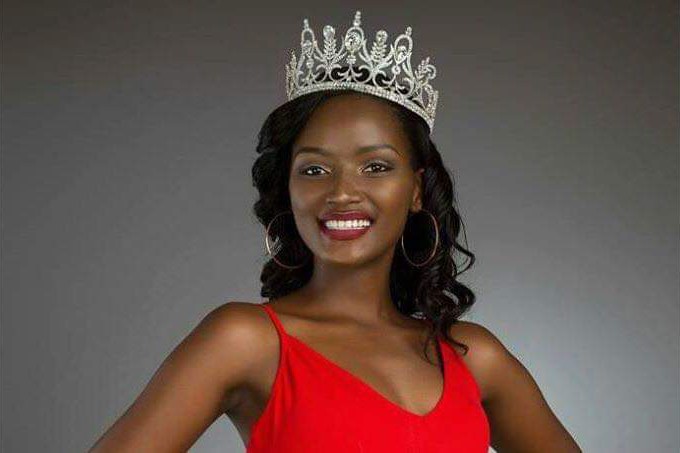 Miss World Africa Quinn Abenakyo who hails from Eastern Uganda – Busoga region was recently appointed the Tourism Ambassador of Uganda. The beauty queen was set to travel the country in an initiative by the Ministry of Tourism in a bid to market Uganda.
Suddenly, Abenakyo cancelled her Eastern Uganda Tour dubbed 'Tulambule Ne Quinn' which was slated to start on January 27, 2019 on grounds that she was sick and was advised by her doctor to rest.
On February 5, 2019, just a week after Abenakyo cancelled her tour. The nation woke to a new tourism ambassador, the curvy media star Anita Fabiola.
The NBS TV personality was flagged off  by the Ministry of Tourism for the 'Tulambule Eastern tour' together with tourism beauty queens, Miss Tourism Margaret Kankwanzi , Miss Earth Uganda Josephine Nabirye, and Miss Karamoja Emily Ayen.
It is alleged that Abenakyo declined the 14 million offer from the ministry of Tourism for her to participate in the Eastern Tour which Fabiola accepted. Abenakyo didn't receive support from the Ministry of Tourism when she was heading to China for the Miss World competition.
All our efforts to get a comment from Miss Uganda Foundation have yielded zero answers. The Beauty Queen was on a Joint tour in Busoga region with the Speaker of Parliament Hon. Rebecca Kadaga.
Speaking on a Local Radio today, veteran Media personality and events promoter J.Kazoora who is currently on the Tulambule Eastern Tour hosted by Anita Fabiola said they tried so hard to make sure Abenakyo takes on the Tulambule Tour but all their efforts went to waste.
Following a parliamentary session that Quinn and her parents attended in the gallery of Parliament, Members of Parliament tasked the Minister of Tourism Hon. Godfrey Kiwanda to give Abenakyo a permanent job at the Ministry since she is a fresh graduate. Kiwanda was also asked why government didn't facilitate Abenakyo to attend the Miss World beauty pageant in china.
As a result, Abenakyo asked for 100 million shillings if she is to participate in the Tulambule campaign.
Zari, the good will ambassador before Abenakyo was appointed, and wasn't given any money to participate in the 'Tulambule Ne Zari Western campaign'. According to the socialite using her social media influence to market Uganda was her contribution to motherland.