A clergyman of the Church of Uganda was on Thursday evening left nursing bad cuts after he was hit with a machete by a farmer who caught him stealing matooke from his garden.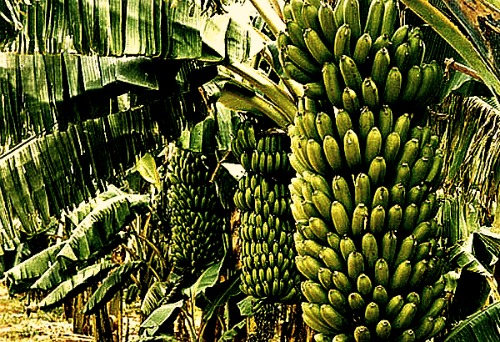 Zadoch Bahwera, the Reverend of Kyaruyimuka Church of Uganda in Bunkenke village, Kagamba Sub County, Rakai District, is reported to have been grabbed red-handed by one Joseph Rukuuta ( the clergyman's fellow resident who commercially grows matooke) attempting to steal some of the latter's mature crop.
Apparently, the Reverend had harvested a couple of bunches from his neighbour's garden and was attempting to load them on a motorcycle and ride off when the owner of the garden latched on him and in attempting to stop him cut his left arm a couple of times. The bledding minister of the church was then handed over to Police who first threw him into the cells, but when his wounds required serious medical attention they delivered him to hospital, from where he is scheduled to be returned to prison and from there face the law in court.
Members of Bahwera's congregation said their reverend has been known a matooke trader (middleman) who buys from farmers and delivers to vendors in Kyotera market.
Some of his flock said their reverend must have been tempted by the hardship of looking after a family of a wife and four children off meagre ministry earnings from a very small rural church.