A young woman identified as Angella Ainembabazi has told Police that self-styled prophet/pastor Augustine Yiga (of Revival Christian Church Kawala) raped and impregnated her in a prayer room five years ago when she was only 15 years old.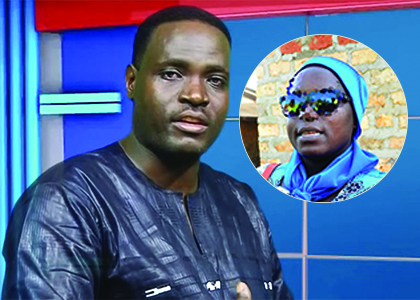 Recording her statement against the pastor at Kawempe Division Police Headquarters over the weekend, the young woman revealed that she had traveled to Pr. Yiga's church from her home district of Sheema in Western Uganda, after a friend told her that the pastor could pray for her to overcome the many challenges she had in her life at the time. The young woman says at the time, she was the head of a family of orphaned children because both their parents had died, so she wanted to find a good job, or even preferably go abroad, in order to look after her family.
The woman says that when she et Pr. Yiga, she told her that her bondage was too much and needed special prayers, sending her to a special prayer room where he forced himself on her. Four months later, after she had moved to South Sudan to work as a maid in a governor's home, she discovered that she was pregnant and later gave birth to a son whom she says resembles Yiga. She wants a partenity DNA tests done to match the child against the controversial pastor.
Courtesy of the young woman's and several other criminal accusations (sexual, financial…), Pastor/Prophet Yiga a was arrested on Friday and detained at Kawempe Police station. Some of his church followers stormed the police station demanding for the release of their pastor.
According to Police spokesperson Kampala Metropolitan Police Patrick Onyango, Pastor Yiga faces rape and other possible charges. Yiga who was set to be released on bond after he agreed to take a DNA test with the child in question was detained after the policemen at Kawempe received instructions from the criminal Investigation Directorate (CID) halting the pastor's release said a furious follower.
Yiga emerged to prominence with claims that he had powers to eject bad omen and send it back to the sender. The pastor had since relocated to South Africa where he started up a church, Great Revival Church, Pretoria. He recently returned back to Uganda.
In 2017, Yiga was taken to court over rape charges, 27-year old Brenda Nalubega took the city pastor to High court accusing him of allegedly raping her, fathering a child and refusing to pay a remit monthly fee of 150,000shillings.