The President of Rwanda, H.E. Paul Kagame, has acknowledged the existence of bad blood between Uganda and his country, and accounted for the situation by saying that is is because the Ugandan government has chosen to believe lies told it by Rwandan dissidents hiding in South Africa.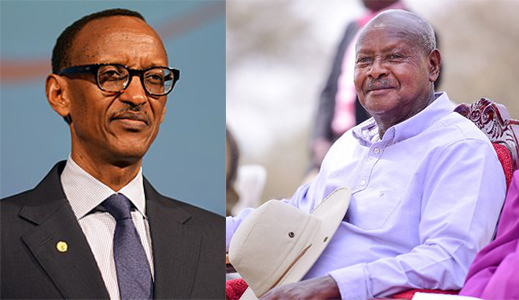 Opening up on the issue of relations between Uganda and Rwanda for the first time in a media interview, the Rwandese president told the East African newspaper in a long interview that much as the sitting governments in Uganda and Rwanda have a reason to be bosom buddies because of a shared foundation (referring to the RPF's emergence from the NRA), it is 'intriguing' that there is a bad relationship that persists.
"Some of the things that are are said to be believed by Uganda about us are coming from individuals living in South Africa. It is these individuals in South Africa plotting all kinds of things against us and they are the ones giving information to Uganda in a way to solicit support from Uganda against us. Whether accurate or not, the information is designed to create that problem from which they benefit. If Uganda believes some of these things they tell it, it is because they have made a choice to believe them," Kagame said, clearly referring to reported findings by Ugandan intelligence that the Kagame regime was planning to use people inside the Ugandan government to overthrow the Museveni regime (reports that have been carried by several media houses).
However, Kagame pointed out a need for the sitting governments in Uganda and Rwanda to quickly resolve their differences.
"…it is a matter that can be resolved. That must be resolved. Because the alternative is not something that we should even be thinking about, or entertaining. that would stand in the way of our own progress, the progress of all east Africans.
"… we have made so many pronouncements… we are saying the best things. We should make an effort to do those things, not just say them. .. We have had discussions over this for two years, we can resolve them, whether it is egos or just wishing that things should be bad."