Kyadondo East MP Hon. Robert Kyagulanyi has finally spoken out about the weekend incident where he was attacked by former Vice President Specioza Kazibwe at the funeral of the late Busoga Diocese Bishop, Cyprian Bamwoze. Bobi Wine says the unwarranted attack on him did not surprise him because it has become the behavior of all Museveni associates to attack critical voices out of fear.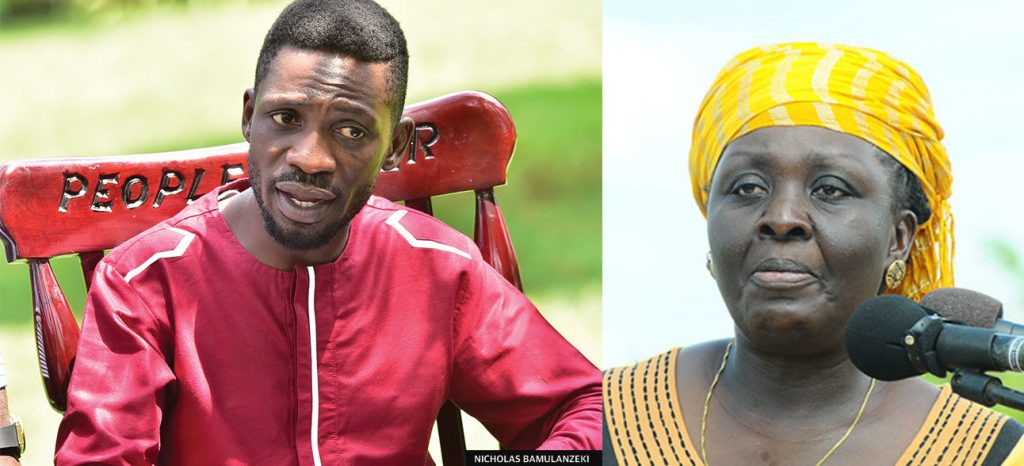 "Though it hurts that a person we respect acted like that, on the other hand it was not a surprise that she acted that way," Bobi Wine told the media in Busoga earlier today.
"Our leaders who associate with Museveni fear anything and anyone that/who awakens Ugandans. So when they see me now, they act out of fear. And they lost all their human values and dignity because of associating with Museveni," Bobi Wine said before vowing to continue preaching his People Power slogan.
On why exactly the legislator attended Bishop Cyprian Bamwoze's burial, Bobi Wine said it's an African norm to attend such events no matter whether you know the deceased or not. He said such ceremonies do not need invites, more so because Bamwoze was an icon in Busoga and Uganda as a whole so that any Ugandan would do well to attend his funeral.
However, Bobi revealed that he personally knew Bishop Bamwoze and he rated him highly with the likes of Arch Bishop Janani Luwum since they all boldly spoke against issues that affect citizens.
"Bishop Bamwoze was my friend and we had even scheduled an appointment, unfortunately he dies before it happened. He is a great son of Busoga and Uganda," Bobi Wine said.