Kampala city Socialite Shanita Namuyimba,  commonly known as Bad Black, has today appeared at CID headquarters for questioning over a video she posted online in which she 'insulted'  the president of Uganda Yoweri Kaguta Museveni. Accompanied by her two lawyers Julius Galisonga and Sam Muyizzi , the socialite has appeared two days before the day the Police had indicates she should appear at CID headquarters Kibuli.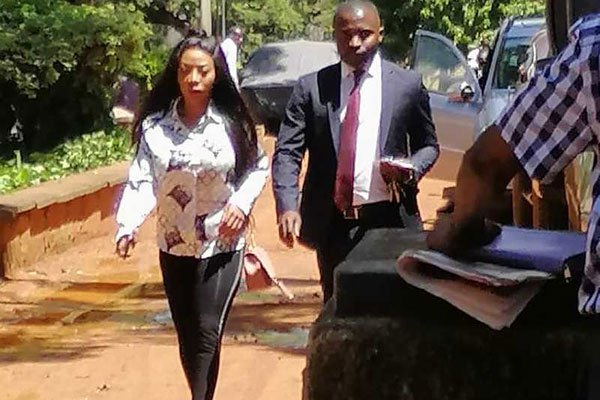 In a police summon dated February 20, Deputy CID director Joseph Obwona ordered Bad Black to report at CID headquarters on Wednesday this week (28th of February) without fail.
"We are investigating a case of offensive communication and criminal libel. You are, therefore, in pursuance of the provisions of section 27A of Police Act (as amended) required to report before acting commissioner of police in charge of media department at CID headquarters on 28th February 2019… without fail…" the summons read in part.
According to the CID spokesperson, SP Vincent Ssekatte, Bad Black has been taken to the officers for interrogation. However he didn't state who the complainant is and what charges exactly she is facing, but the city socialite is likely to have breached the computer Misuse Act.
Bad Black posted the video on her Facebook page last August. In the video she hurled swearwords at President Museveni as she protested the continued detention of Bobi Wine. At the time Bobi Wine was arrested and taken into military detention for allegedly stoning the president's vehicle. Shortly after she posted another video apologizing to the head of state.