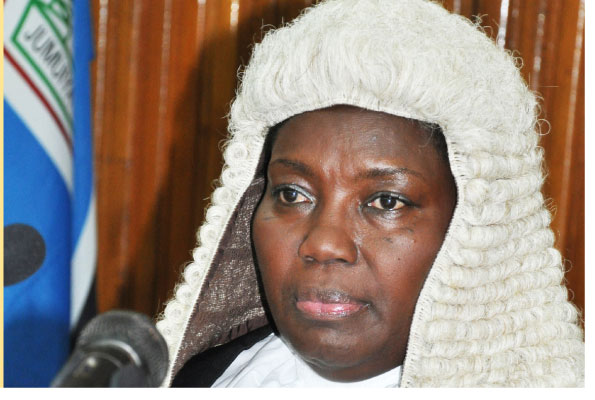 Parliament Speaker Rebecca Kadaga has dismissed the Inspector General Of Government's request to the Internal Security Organisation to investigate MPs who handled the Bank of Uganda Probe as "interference."
During Parliament's Plenary sitting on Wednesday afternoon, Kadaga said she had received a copy of the IGG Irene Mulyagonja's January 19 letter in which she asked ISO to investigate allegations of bribe-taking by MPs on Parliament's Committee on Commissions, Statutory Authorities and State Enterprises (COSASE), but called it an attempt to interfere with Parliament's work.
Kadaga termed the act as a "violation of the principle of separation of powers".
"I received a copy of the letter written by the IGG to the director general ISO, asking him to investigate members of the committee. I will give it to the Prime Minister because this is a breach of separation of powers because this is our work," Kadaga told the plenary.
On February 19, Mulyagonja wrote a letter to ISO Director General, Col Kaka Bagyenda, saying she had received a complaint from a whistle blower alleging that Committee Chairman Bugweri MP Abdu Katuntu and COSASE members had taken Shs400m from Bank of Uganda authorised by the Governor Emmanuel Tumusiime Mutebile for an official trip outside the country, without accountability.
The IGG also alleged that Mr Katuntu and his deputy Bukedea MP Anita Among were associates of city Tycoon Sudhir Ruparelia, whose Crane Bank was a subject of the parliamentary inquiry.
Mulyangonga said ISO was "in a better position" to inquire into a complaint by a whistle blower submitted to the two offices about alleged misconduct by the MPs.
MPs have however rubbished Mulyagonja for trying to investigate the people who are investigating thieves.
Insiders say Mulyagonja's move is a ploy to water down the COSASE report and help top BoU officials who are culpable easily get off the hook.