After closing the border with Uganda, which is traditionally the main gateway to and fro Rwanda regarding the tiny country's exports, Rwandan President Paul Kagame last week spent two days in Tanzania holding talks with his counterpart John Pombe Magufuli. And word from sources privy to the meeting now indicate the Rwandan leader was in Tanzania to firm up relations with Dar in order to establish an alternative sea-route for the country's exports.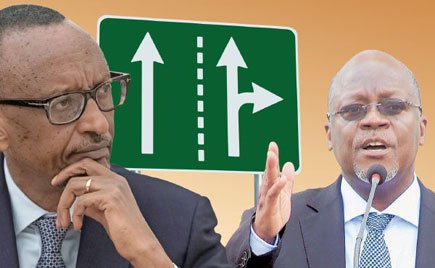 Although 75% of Rwanda's imports come through Dar-es-salaam, Uganda is equally important to her tiny neighbour, as the country's major exports of minerals, tea and coffee have always gone through Uganda on to Mombasa.
President Kagame arrived in Dar es Salaam on Thursday and held talks with his counterart Magufuli over two days, and it is said the main issue on agenda was to find a way of shifting the main route of Rwanda's exports from Uganda/Kenya to Tanzania.
The relationship between Rwanda and Uganda has been increasingly becoming worse over the last few years, with both countries trading accusations of bad behaviour. Kigali has been complaining that of Uganda harbouring dissidents working to overthrow the Kagame regime, subjecting Rwandese citizens in Uganda to illegal arrests and torture. as well as blocking Rwandese exports. Uganda has mainly accused Rwanda of transporting goods through the common transport corridor in breach of the provisions of the East African Community Common Market Protocol, and has on occasions held tens of Rwandan trucks for weeks before releasing them.