Last week, Kyadondo East Member of Parliament Robert Kyagulanyi aka Bobi Wine officially announced his plans to contest for the presidential seat in the next general election of 2021. Thereby setting a whirlwind of controversy into motion, as many immediately started debating whether or not the self-proclaimed Ghetto resident has what it takes to lead the country, let alone if he should even contest the election. It's a debate that's certainly destined to blaze on for the coming many weeks.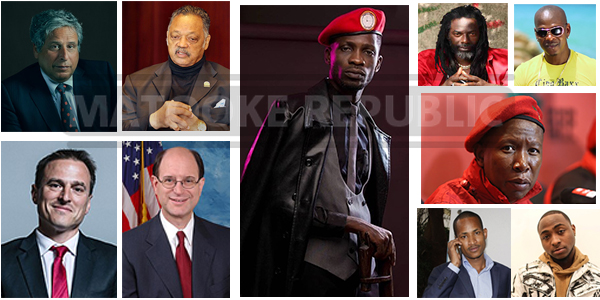 While people out there debate whether or not Bobi Wine can really lead Uganda, whether even he should stand for President, Matooke Republic here brings you a list international and local heavyweights who have endorsed the musician-turned-politician to gun for the top office, as well as those who are certainly in his camp even as they are yet to voice their endorsements of him. Because of this move, the self proclaimed ghetto gladiator has already garnered support from music icons across the globe.
Julius Malema (South African political firebrand)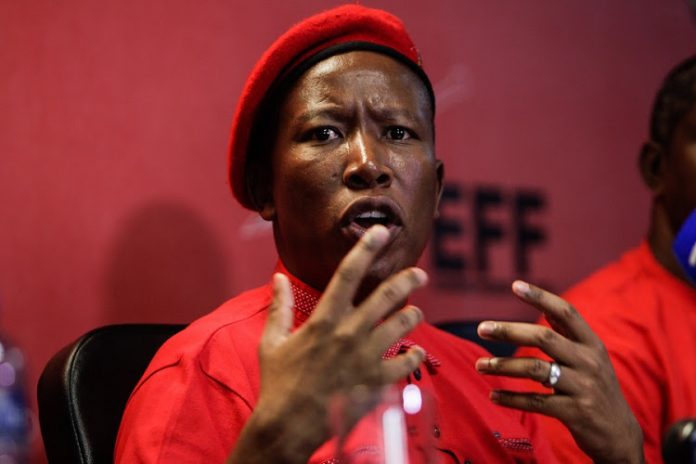 Unless you didn't catch what he said, South Africa's youthful firebrand is indubitably the international figure that has so far given Bobi Wine the loudest and most colourful endorsement. The leader of the Economic Freedom Fighters (a far-left political party in the rainbow nation) not only lauded Bobi Wine as a brave, inspiring leader in the mould of Zimbabwe's young opposition don Nelson Chamisa, Malema actually said Bobi Wine can liberate Uganda and lead it to great things, and expressed hope that nature will help the Kyadondo East MP on that mission. He called on President Museveni to 'pack up his oversized coats and go rest,' saying the Ugandan leader is too old and a big problem and should give way to Bobi!
Hon. Babu Owino (Kenyan MP)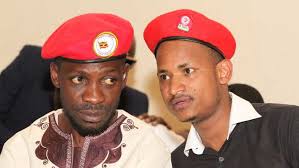 Bobi Wine's Kenyan counterpart, Embakasi Member of Parliament, Hon. Babu Owino is another international big name that has thrown serious weight behind Bobi Wine's political activities and aspirations. When Bobi visited Kenya late last year, Hon. Babu hosted the Ugandan MP at a number of functions and events, using every of those occasions to express suort for Bobi Wine, his cause and aspirations. So much that when the Kenyan M wanted to come to Uganda to attend Bobi Wine's controversial Kyarenga concert, the Ministry of Foreign Affairs denied Kenyan MP entry to Uganda, on the grounds that "…When Bobi Wine visited Kenya, the duo (Bobi Wine and Babu) uttered inflammatory and seditious words against the democratic and legitimate rule of President Yoweri Museveni" Babu Owino relied the Ugandan government in a letter in which he urged the youth not to give up on the fight against the government. "Honorable Bobi Wine and I remain brothers in ideology and no amount of intimidations will stop us from working together to liberate the people of Africa." Babu wrote.
Rev. Jesse Jackson (American Civil Rights legend)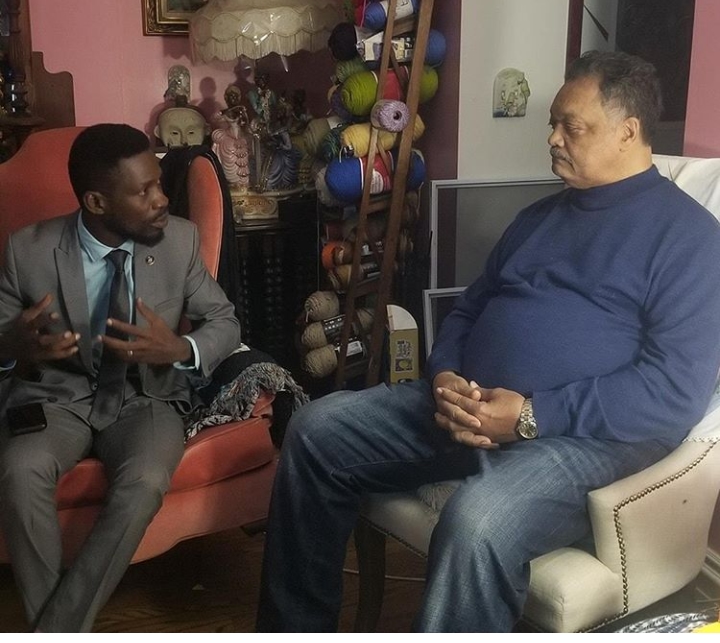 It was still on his tour of the Americas a few weeks ago that the Kyadondo East MP, when he embarked on the USA leg of the tour, met with Civil Rights legend Rev. Jesse Jackson. Though the Democratic primaries nominee for the1984 and 1988 presidential elections didn't directly endorse Bobi Wine, merely meeting him was a message that Rev. Jackson recognised and acknowledged what the Ugandan musician was doing back home. Bobi Wine revealed that after discussions him and the civil rights legend even joined faith in prayer for People Power as well as for as for Uganda and Africa as a whole.
Mr. Vegas (Jamaican musician)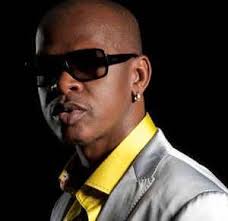 When Bobi Wine flew to Jamaica for the Rebel Salute festival at the end of January, he met many powerful Jamaican musicians, and chatted with several of them about his political endeavours back in Uganda. But it must have been Mr. Vegas who was impressed by the Ugandan. It is Mr. Vegas who went on to publicly endorse Bobi Wine and even ledge to come down and campaign for him, tweeting when Bobi had hardly left Jamaica:"I will come and campaign for you when you are ready bro! Africa Stand Up! This is the future! I met this man! He could have stuck to his music & watch our people's suffering continue. The sacrifice is real."
Buju Banton (Jamaican musician)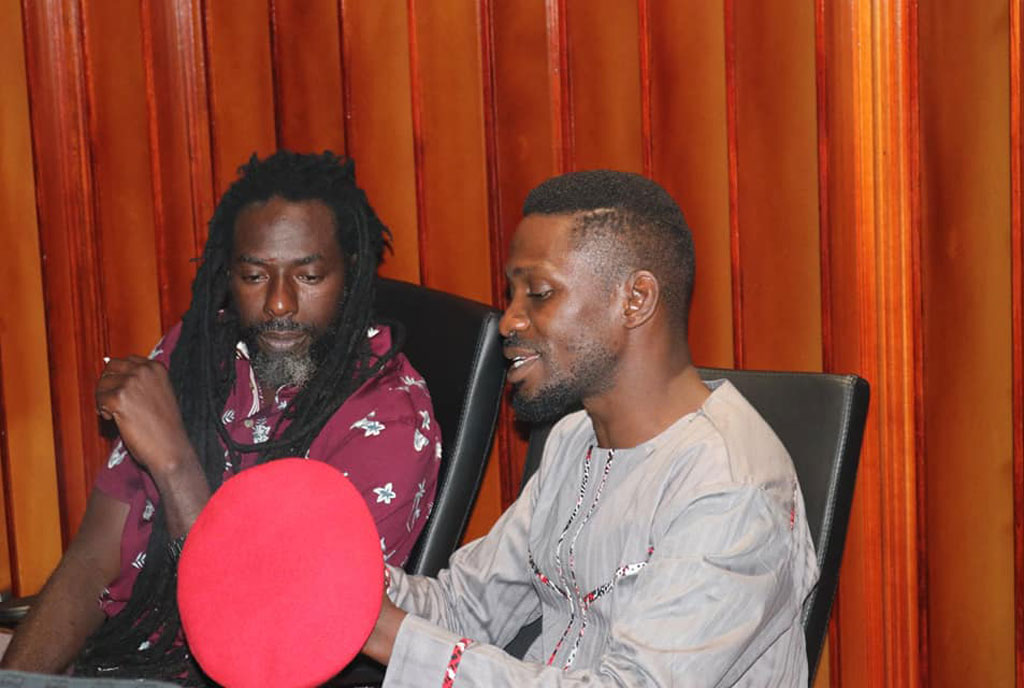 Bobi Wine was more than mesmerized to meet one of Jamaica's most legendary stars of all time, quickly writing on his Facebook how it had been captivating and spiritual to speak to and touch Buju. Revealing what he had discussed with Buju, Bobi revealed that the Grammy Award-winning reggae star assured him not to be afraid to go to jail for what he believes in. "…He reminded me that jail is part of the price those who fight for freedom must pay before things get better," Bobi wrote somewhere in his post.
Davido (Nigerian musician)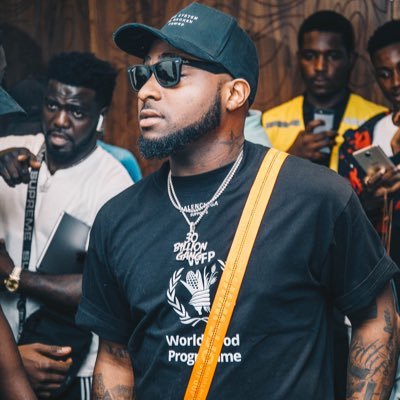 The Nigerian star, one of Africa's foremost artistes today, has not only gone on record lauding Bobi Wine's involvement in politics for the sake of his countrymen, something Davido referred to as 'taking the mantle to lead Africa to greater heights.' Davido further went online to promise to support and campaign for Bobi Wine in 2021 if he stands for the highest office in Uganda. Davido tweeted, "I love wat Bobi Wine is doing. He has my full support in 2021."
Paul Williams (UK MP for Stockton South)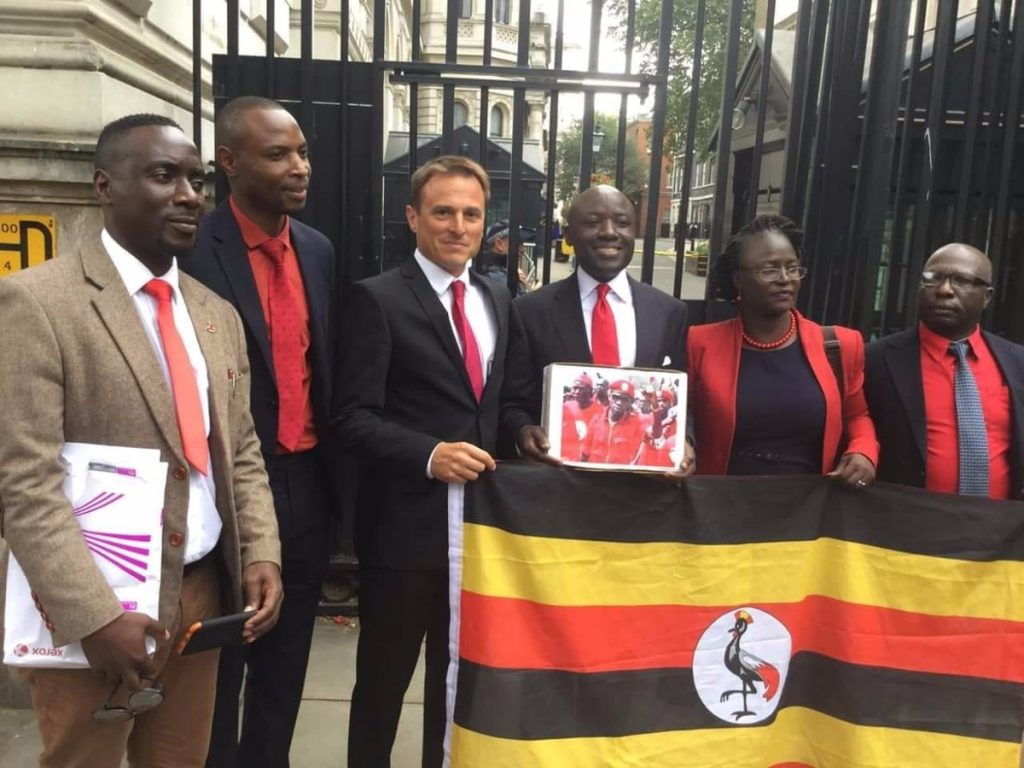 The British parliamentarian who has worked in Uganda, and who still claims to have a special place for the country in his heart, is surely behind Bobi Wine's efforts to cause regime change in Uganda. Williams has an unhidden distaste for President Museveni, whom he has described in the UK parliament as 'undemocratic', 'repressive,' 'a barrier to Uganda's progress,' among other things, and the British lawmaker has taken special interest in Bobi Wine's challenge of the Museveni regime which the Briton once called "a small group of people who benefit from power and patronage'. When Bobi Wine was manhandled following the Arua fracas last year, it is Williams who dragged the issue to the floor of the British parliament, urging the UK to do something about the situation. He has lauded Bobi Wine's efforts for regime change, and there's no telling how far he will go to support those efforts.
Robert Amsterdam (US Lawyer)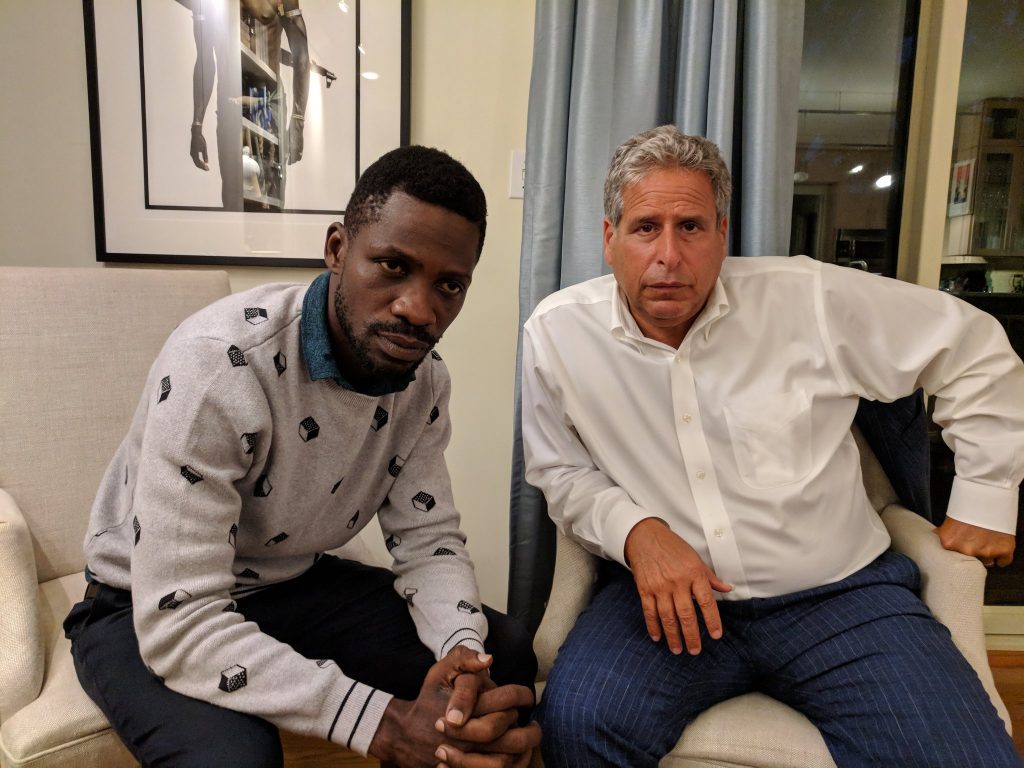 The man behind New York-based Amsterdam & Partners LLP is without a doubt one of the most powerful and most vocal heavyweights in the Bobi Wine/People Power camp. Officially Bobi Wine's international lawyer, Amsterdam hasn't only stood by Bobi Wine in legal matters since he became part of Bobi Wine's legal team after the Arua fracas of last August. Amsterdam has actually taken a co-starring role alongside Bobi Wine in exposing the ills of the NRM regime overseas, let alone campaigning for international action against the regime. In the aftermath of the Arua fracas he called on the U.S government to suspend financial and military support to Uganda, he has tried to drag the NRM government to the ICC for the said Arua fracas, he … The Ugandan government declared him persona non grata (PNG), meaning he isn't allowed to step in Uganda, but that hasn't stopped him from occasionally visiting Nairobi to base there and send emissaries to Uganda to act on his behalf.
Paul Sherman (US Congressman)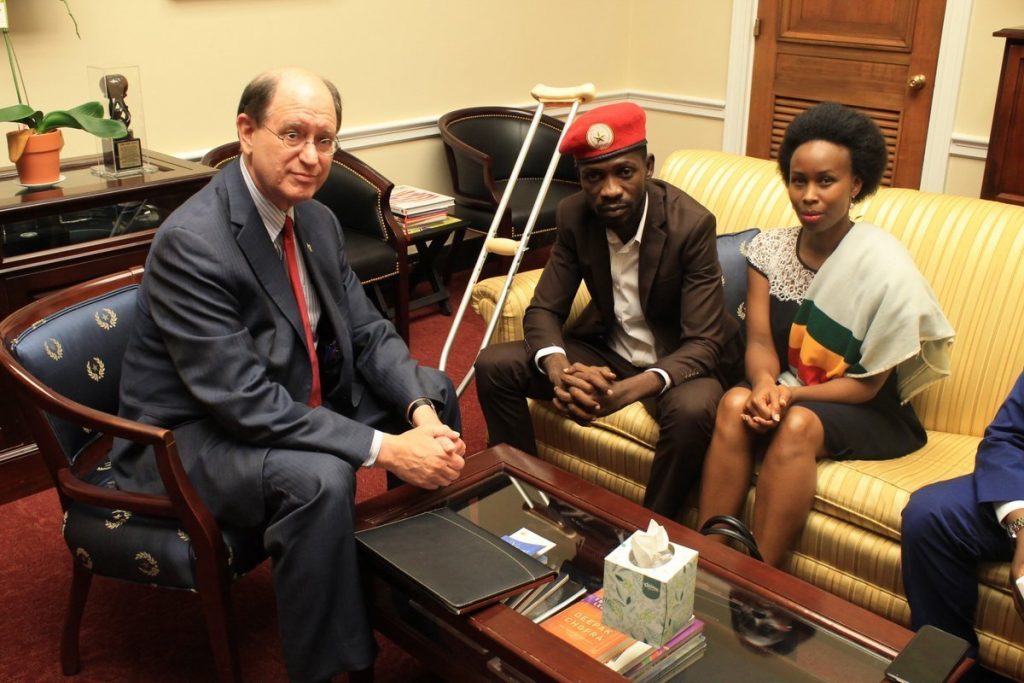 When he travelled to the U.S for treatment after he was severely beaten in Arua last year, one of the heavyweights Bobi Wine struck a code with as he built a U.S network while recuperating is Congressman Bradley Sherman. Sherman is currently serving as a Democratic member of the United States House of Representatives, a position he has held since 1997. Both Bobi and Sherman indicated in their messages after their meeting that they had a shared concern for democracy and good leadership in Uganda, and the rumours of Sherman's attempts to have Bobi Wine invited to address the U.S Congress oint to how deep the cord they struck runs. Sherman tweeted after his meet with the Uganda MP: "Today, I met with @HEBobiwine and his wife, Barbara. During our meeting he underlined the importance of the democratic process as well as those who have and continue to suffer from political oppression in #Uganda. #PeoplePower #FreeZaake #Arua33."